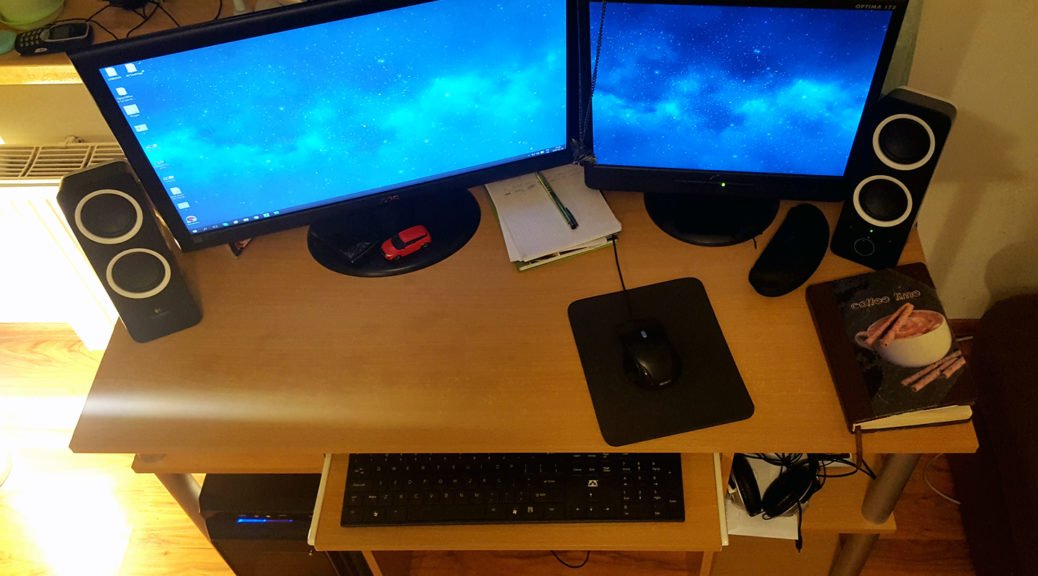 Ladies and Gentlemen- My PC! Let's talk Hardware ?>
Ladies and Gentlemen- My PC! Let's talk Hardware
Follow Me!
I never thought that PC would become my main working tool. I always have looked at personal computer more as an entertainment tool than a work tool. Every laptop or desktop I ever got to myself was purely for gaming and web browsing purposes. Classic way of entertainment.
My First Ever PC
I got my first ever PC back in 2005-2006 when I was 17 or 18 years old, I think. Sadly I don't remember the specs, but it did serve me well for more than 2-3 years. And it had this very awesome looking black case, with a bit rough surface and on top of the case itself were two blue lights imitating the car headlights. It was amazing looking rig (ahh…memories…). I can't find any photos of it at the moment, but if I eventually find it I will post it here for sure. The reason I got it was that my grandma wanted to buy me something valuable and nice, so I had two potions- either to get my drivers licence or a PC. So I choose PC (nerd). Of course in the eyes of my grandma and parents a PC was a learning tool, just for studies (and for the great part it was truly) 😀 I think most of us said that "I need it for studies"(oh the beautiful lies). But once you get it it's "Game Time"! I was no exception. I was psyched about this game (Bioware RPG called "Neverwinter Nights") my big brother was playing some time ago. I was watching him play it and I just was fascinated with everything in it- graphics, sounds, soundtrack, story… it just was a beautiful piece of art. I wanted to play it myself so badly, so that the first thing I did once I got my PC was I got a copy of "NWN" and the sleepless nights began 😀 Once again I believe that happened for most of us, right?… 🙂 It was my ever first PC and the very first serious game I played and I hold them both dear to my heart till this day.
The Laptop/Tablet era
As I said my first desktop machine served me well but needless to say it got slower over the years and it just got, as we say, morally old in general. Plus I had to move abroad at one point so I just had to let go of my "old love" and think of more travel friendly gear. So of course I got myself a nice white Fujitsu Siemens laptop. It was just perfect for my travels and very comfortable to use. After this one I bought some Samsung Netbook 🙂 finally I got myself an Ipad. I just went smaller and smaller. It's just by that time we got our Xbox 360 console and no more games were played on PCs or Laptops. So Xbox covered game department and laptop/tablet was just for web browsing. So I spend quite a lot of time without any desktop computer until the fall 2013.
I felt the need for PC again
So in fall 2013 we were done with our travels. We settled down again and I started to feel the need for PC again. And again it was gaming driven thing, cause at the time there were so many awesome games I wanted to try that Xbox either didn't have or the graphics were not so pleasant to look at. So we considered a bit and we finally decided to get ourselves a gaming desktop. So we (by "we" I mean my husband :D) did the research and we went to the local retail store to see if we can get what we wanted. We decided to buy our new PC from separate parts and play some "Tetris" later (bad jokes never staph with me…) 😀 I can say we got ourselves quite a beast. All the new games (DA Inqusition, AC Black Flag etc.) I played on the highest settings and just was amazed what it was capable of. I even got myself a Xbox controller for PC so I was in 9th heaven 🙂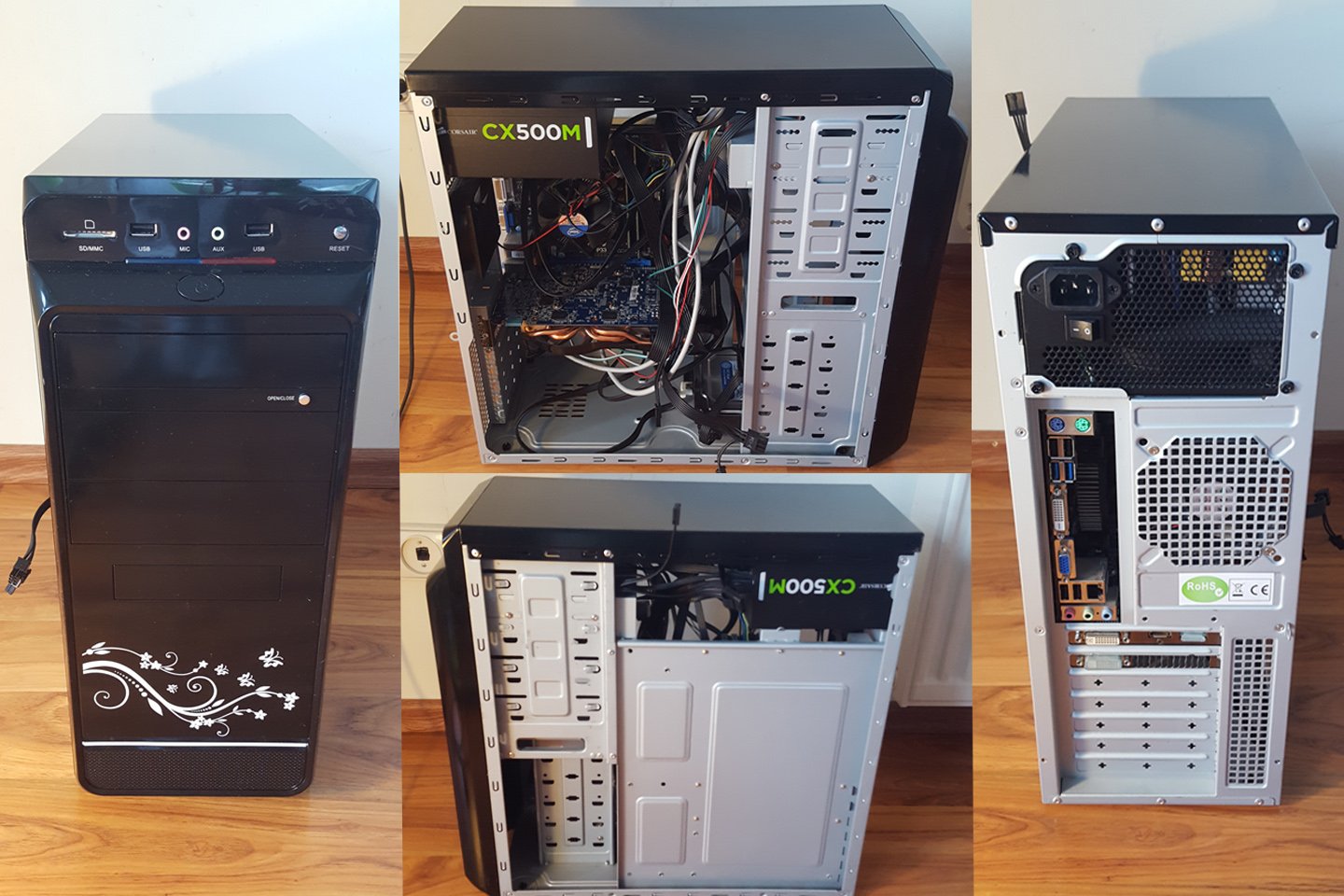 (Yes, there are some butterflies on my PC. At that time it was the cheapest case and I really was over with the "cool looking" things, so I didn't mind me some butterflies 🙂 )
3 Years in progress
And even after three years it is  still a f*cking monster. I played Witcher 3 on it on high settings! of course I didn't get 60 fps. It was about 30-40 fps, but it didn't bothered me and I didn't feel discomfort regarding this and enjoyed the game, the experience and my PC did its job perfectly. When I started to get myself into 3D it was a hot topic, whether to get a new PC or to upgrade my oldie and see what will happen. Cause I knew that 3D work can be just a bit too much for it to handle. But we decided to upgrade the weakest parts of it and it just worked out fine. I know perfectly that for serious 3D work my desktop is too weak and to old, but for the time being it gets the job done and I am very satisfied with it. I still cannot believe that it will be soon a 3 year old machine and it still can handle so much. We got ourselves one true beast.
My humble review of my PC. Things from a noob perspective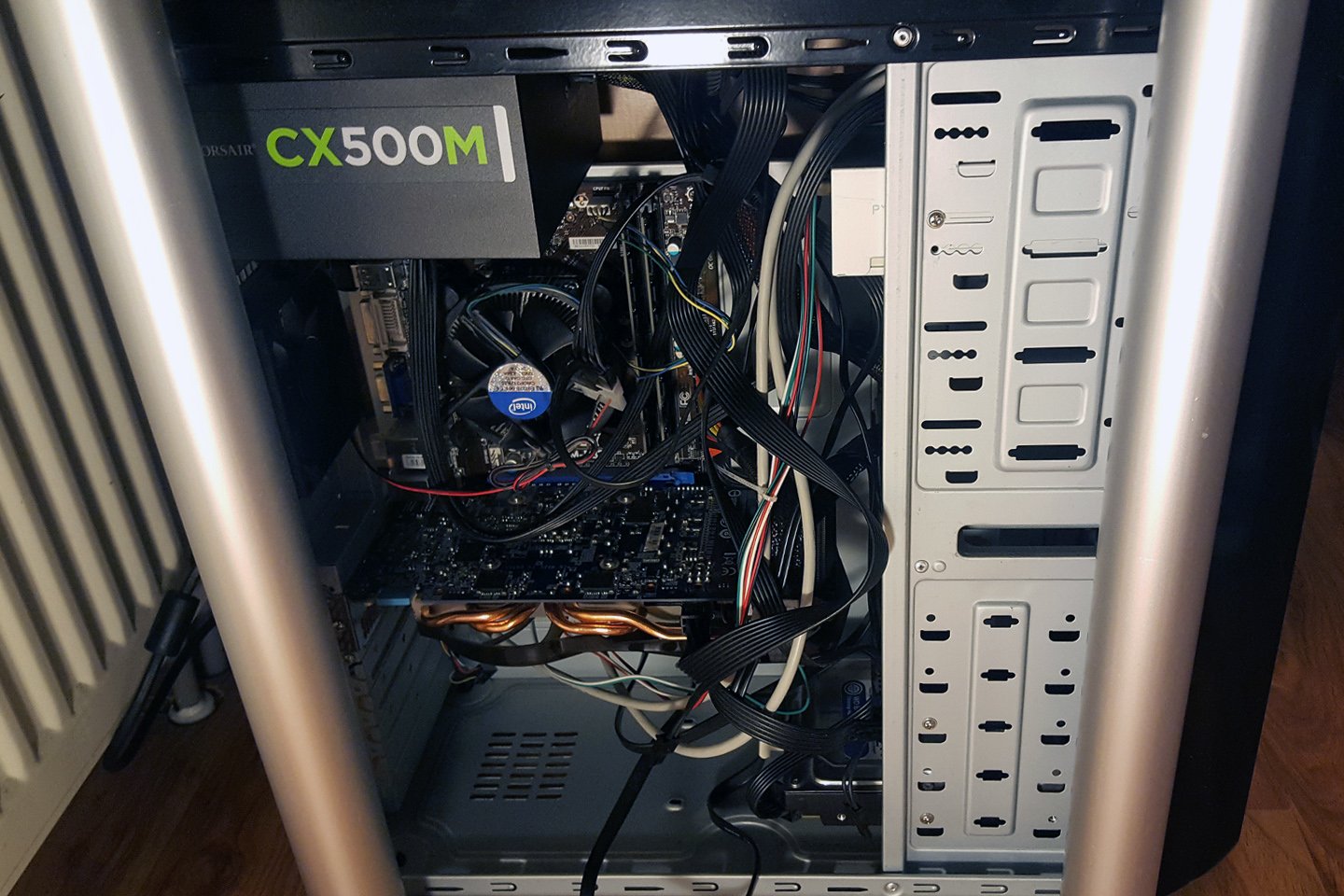 So this is my one and only! I keep both of the sides open, so it gets ventilated properly and easily. I know it looks messy with all the wires, I just don't know how to manage them nicely. And I don't really mind this messy look:) As long as no wires get caught in the fan.
MSI B85M-P33 Military Class 4 Motherboard
The reason we chose this MSI B85M-P33 Military Class 4 motherboard is pretty simple. It is worlds leading gaming brand. The quality and price ratio was on point. And we read lots of positive reviews about it. It is stable and trustworthy product. And this I can promise. During all these three years we never had a problem with it. Well and of course all the simple things like 4 USB ports and the ability to upgrade RAM to max 16GM was a good thing too. So overall it is a great brand, great product, which didn't fail to work ever and I recommend it.
More info about current prices and other review or MSI B85M-P33 you'll find here.
Gigabyte GeForce GTX660 2GB DDR5 PCI-E Graphics card

This graphics card is just amazing. No matter how naive and boring this sounds, but it is true. Considering it's age the capability of it is immense! When we searched for the graphic card the main requirement was to get the best gaming experience. And I dare to say we picked one hell of a graphics card and it delivered everything as promised. I will repeat here myself but I played Witcher 3- on high settings! There is  no need to say anything else here. The fact itself explains how f*cking brilliant my GTX660 is. In these three years it has never been overheated, which was a constant problem with AMDs. I am just lucky to have it and to still use it without any problem. Of course back then it did cost us quite a lot, but it is worth the money.
Check current prices and other reviews of Gigabyte NVIDIA GTX660  here.
Crucial CT102464BD160B 8GB DDR3  RAM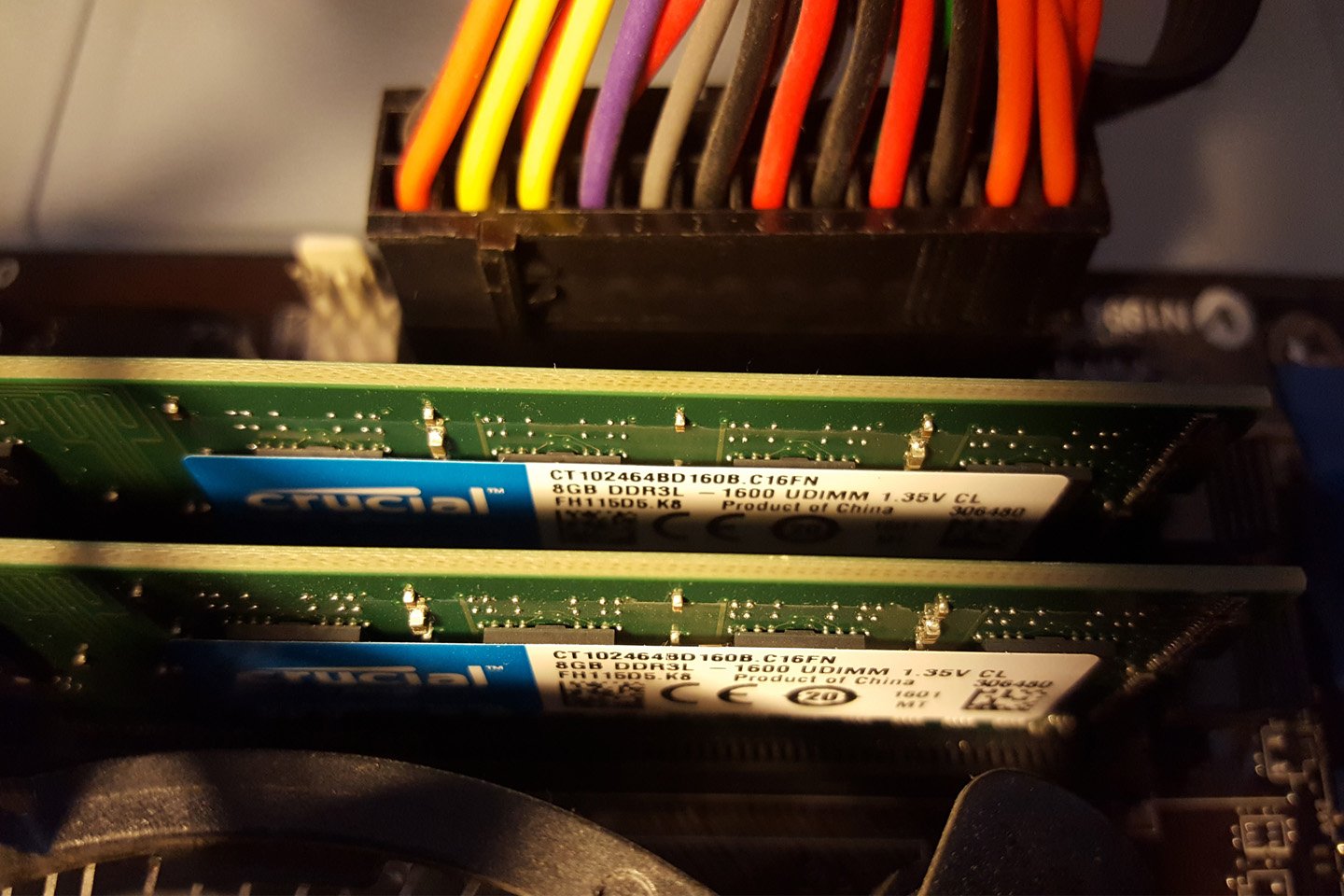 RAM is RAM. You want things not to lag and generally save your mental health (lag rage) you will invest in RAM 🙂 RAM is one of the things you just have to upgrade overtime. Originally we put just 8GB, and it was quite enough for a great gaming experience. But ever since I started with 3D I felt the need for more memory. It is a must in my case. The lag sometimes was just unbearable. But once I upgraded to 16GB things go way more faster and smoother. We chose Crucial RAM because we were using production of this company for as long as I can remember and it is just a reliable, high quality stuff, that I like to use and very genuinely recommend for others.
Check for the best price of Crucial CT102464BD160B 8GB DDR3  RAM  here.
Smasung 250GB 850EVO Solid State Drive
The other thing that needed to be upgraded badly was my HDD. I had (and still do) Western Digital 1.0 TB HDD. A great product indeed. Didn't crash once. It's just a bit slow. But it serves me very nicely as a secondary storage device. So knowing my "need for speed" (literary) my hubby got me a new Samsung 250GB EVO SSD and so far so good, it works like a bee. I forget about any lag or longer loading regarding computer navigation. I just keep all the system files and installed programs in my new SSD and all the other data in HDD. Things work better that way for me:) I have this SSD just few months so I can't say much more about it, but so far I am happy with it and have no complains. It's a nice, silent, extremely fast piece of hardware.
Check more reviews and compare prices of  Samsung 250GB EVO SSD here.
See the reviews of Western Digital HDD 1.0 TB here.
Intel Core i5 4430 Quad Core CPU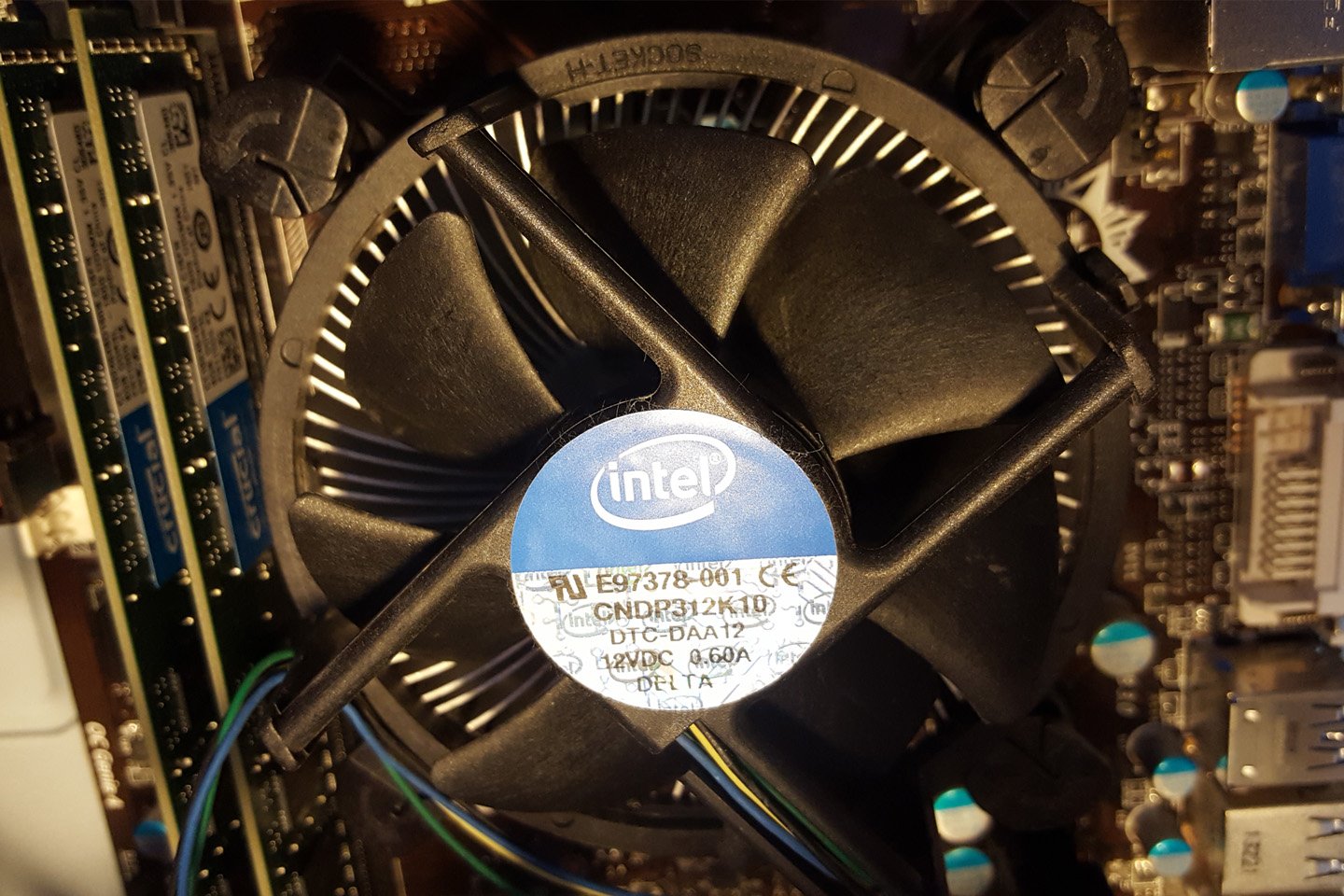 Despite the fact that it is an old CPU- i5 4430 does its job perfectly so far. We chose Intel so I could, once again, enjoy better gaming experience. And I did and still am. If other than that I would be perfectly happy with it. But now once my 3D projects get more complicated and bigger and I had to deal with more complicated renderings I feel the lack of a truly powerful CPU. And CPU plays the crucial part at rendering process. I am not complaining though, i5 is one strong mother-lover and it never failed me so far. Yes it is slower and I had to be patient while rendering, but it gets the job done and is a reliable and trustworthy product.
Check prices and see more reviews of Intel Core i5 4430 Quad Core CPU here.
Corsair Builder Series CX500M 500W Power Supply Unit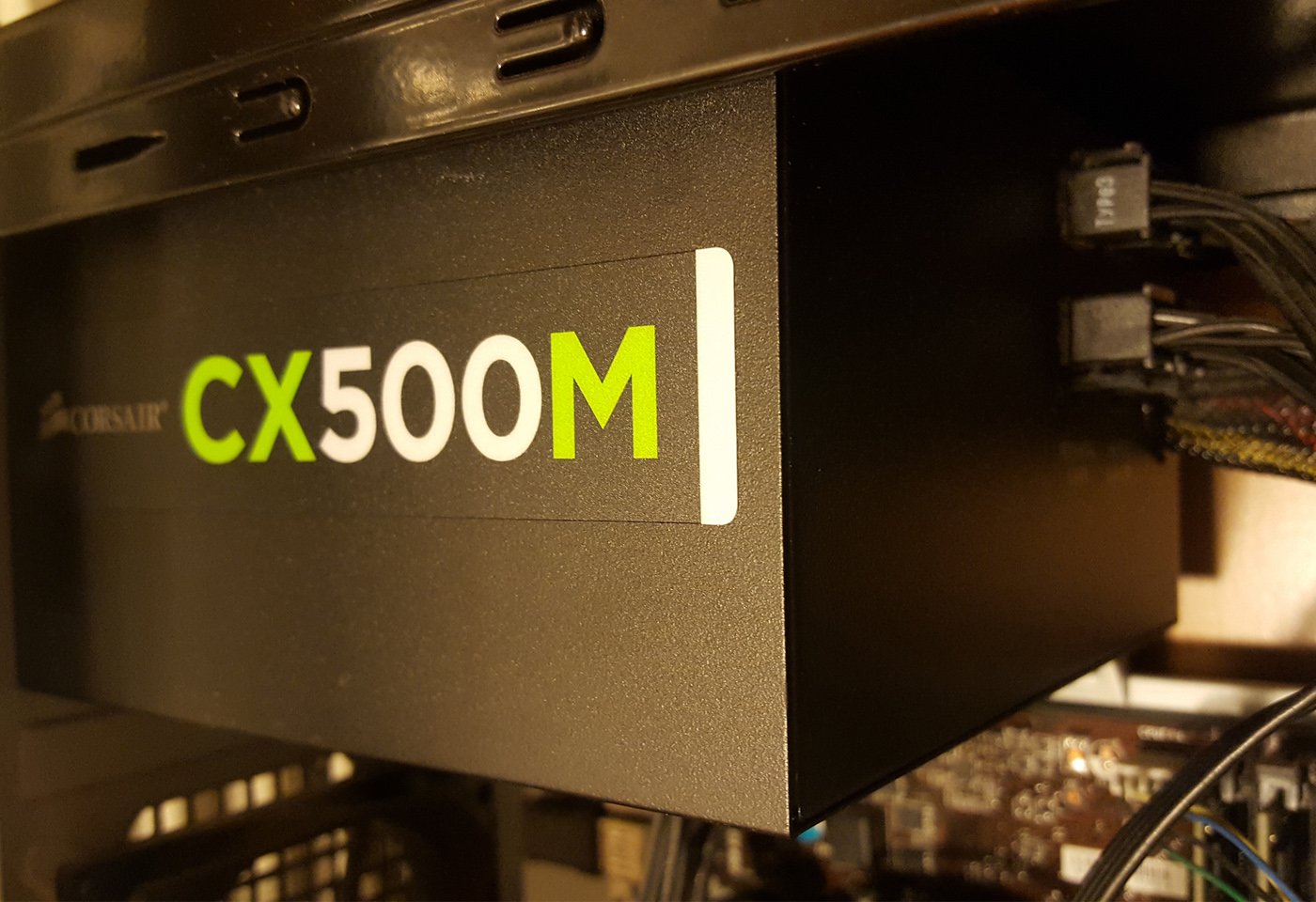 Corsair CX500M power supply unit is, I think, the most high-end part of my PC. We wanted to invest in a good power supply unit from the beginning so we took this Corsair beast. It is reliable, it does save power (true story) and it is a real silent giant 🙂 No annoying noises or loud humming were ever produced. The sounds it makes are so subtle that they just blend in the surrounding and you just don't notice them. 500w provides enough  power for my PC even after the upgrades which is a big deal, otherwise not enough power can cause serious damage to a computer. Overall, I'm glad we invested in power supply from the beginning and am happy that it works as Corsair says it would. I recommend it highly!
You can check more reviews and current prices of Corsair CX500M 500W Power Supply Unit here.
Final Thoughts
So there it is, my one and only PC, my daily work tool and entertainment system. I love it as much as you can love a thing! I am so happy that after almost three years it still works as new. I hope it will be my partner in crime for a few more years. Laptops, tablets are fun and nice to use, but the are many limitations. True experience lies in desktop computers. Over last few years I became a PC fan and I really enjoy being one!
I hope you enjoyed my noob review! 🙂 Leave a comment if you have a similar rig, share your experience!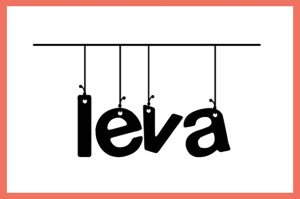 Share Me!